Obie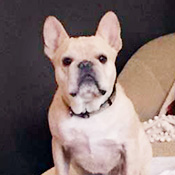 Date posted: 6/24/16
Location: North Carolina
UPDATE: Obie's faithful and experienced foster family worked with him for a year and a half and saw little improvement in his behavior. When he reacted badly to having his mouth wiped--something that his foster mom did everyday--he went into a dangerously violent response that lasted for well over a minute and resulted in a bad bite to his foster mom.  The board decided to have Obie humanely euthanized. This is not the ending anyone hopes for when we volunteer for rescue. Our hearts go out to Obie's foster family, and we are grateful for all they did for him in the time they loved and cared for him.
We are excited to introduce Obie! Obie is a handsome, 7-year-old boy who came to us after a divorce in the family and not enough quality time. Wouldn't you know, we are highly qualified in finding excellent families who will be delighted to give Obie as much attention as he deserves!

Obie has the Frenchie-classic itchies, so he's working on a new diet and medication to help relieve his itchy skin. Other than that, he gets a clean bill of health. Three cheers for Obie! While he's been settling into foster care, Obie has been reported to be a bit snappish when his people are messing with his facial area for cleaning. He's sure to learn his manners in no time while receiving loving care.

This handsome man came without a penny to his name, so please click on the link to donate and send a heart-warming note of encouragement. Obie is excited to find his forever home soon!
Sponsors
Hang in there, Obie! Better days are ahead! Jo Ann Smith
We are happy to help with Obie. carol wiggins
Teresa Caudle
Erick Vera
Little Obie needs some scratch for his scratchies. Marianne Gammache
Hope Obie can use this to help with his allergies. Donna David
Divorce sucks! Keep on keepin' on little guy! Love, Jessica and Chuck Taylor
We hope this helps Obie! Love, Shannon and Ava Grayson from neighboring SC!