Winston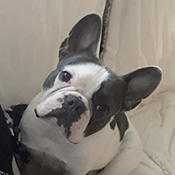 Date posted: 2/2/20
Location: VA
Please welcome FBRN's latest addition, Winston! He was surrendered by his previous owners and he's the sweetest 2-year-old pied boy ever. Winston loves his humans! So much so, that he has accidents if he is left alone for any length of time. It doesn't matter if he has just been outside, or if he is in his crate, or even in the car. He will have an accident if left alone. Poor Winston has major separation anxiety, but we're confident that his foster family will help him understand that there's no reason to be anxious when left alone.

Winston seems to be in great health, but we'll have more to report after his initial vet visit. We know Winston loves car rides and going wherever his humans go! As he settles in, we'll have much more to share about his personality and how he interacts with non-humans.

In the meantime, Winston will be settling into the routine at his foster home. His foster family is confident that his separation anxiety will subside once he realizes that he won't be left alone for long before his humans return. If you'd like to send Winston a few words of encouragement, just click on the banner above and become his sponsor.
Sponsors
I hope this helps a bit sweet Winston!!! You are just as precious as can be! Lauren Lashute
Krista Garland
Winston, have faith that your family will be as loyal to you as you are to them! Separation is tough, but family is forever buddy! Alison Gray
A little something for some snugglies while your foster parents have to leave or some treats for when they always come home back to you! Emily & Tillie
Hoping this donation will come in handy sweet boy. Much love angel!! Michelle M.
Cristine Frantz
Adriana Mocan
Revival
Teresa Patterson
Winston you are a sweet boy!! Separation is tough but with some friends and extra love from family you will be in good hands. Can't wait to hear more updates of you! Christina Pelland
Grace Protzman