Patti and Doris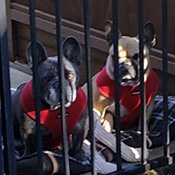 Date posted: 8/3/19
Location: CA
Just like your favorite, lovable aunts, Patti and Doris are here to steal your hearts. And, maybe slip you a piece of candy under the table. Both three-year-old girls were surrendered to us as former breeders and bonded mamas. We all know that mamas stick together! 

Patti and Doris are settling in well at their foster home. They are soaking up vitamin D as much as the weather will allow them and enjoying a carefree life with no puppies to worry about. The girls will be focused on good nutrition (you know, to shed some of that puppy weight) and some basic manners such as leash training while getting ready for their forever home. 

These girls are deserving of all the love and affection they can get. Please help us welcome them to our family by clicking on the link to donate. They are almost ready for a night out on the town without a puppy in tow and will learn the art of a selfie to show their appreciation. Thank you!
Sponsors
Sweet Patti & Doris, here are some dimes for taffy and treats! We love your bond and are keeping an eye on you, ladies; we'd love to adopt you both and bring you home to New York once you're ready. Family roadtrips are lots of fun!  Julia and Casey
Patti and Doris you are beauties and we love that you are a bonded pair. Here's a little spending money for that well deserved night out on the town! We can't wait to be able to apply for your forever home. Sending lots of Frenchie hugs and kisses, Kim & Chris
In celebration of Matt & Ashley and the memory of their girl, Shirley. Elizabeth Martinetti