Gregory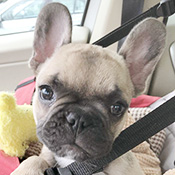 Date posted: 10/22/19
Location: Florida
Are you sitting down? No, really. Are you? We recommend you read this bio sitting down, preferably in a sound-proof room where no one might be affected by your squeeeeeeeeals of delight from seeing FBRN's newest 10.5-week-old puppy, Gregory. Sadly, this cute bundle of love was regretfully surrendered by his owners when they found out he had a heart condition they could not financially afford.

What kind of heart condition, you ask? Currently, our understanding is he will either outgrow it or...not. Gregory goes to see the heart specialist very soon so we will know more shortly. But we couldn't wait for this little button to make his debut to the caring and supportive FBRN family.

In perfect puppy fashion, he is super snuggly, playful and adorably squishy. Gregory needs a lot of good thoughts coming his way so, if you can bring yourself to stop staring at all his cuteness, click on the link next to his picture to donate and become part of Gregory's new fan club. Puppy breath for all!
Sponsors
jolene buscampell
Welcome Gregory! Loren Rea
Gregory! We would love to send you a little love and we can't wait to be able to apply for your forever home! Much love! Justin and Abe
Teresa Casella
For little Gregory in memory of my frenchie Kai who looked just like him. Hope you find loving home. Irina Weintraub
Annick Chartier
Joseph Filipkowski
Happy New Year Gregory!!! Best Wishes for a healthy 2020. William Kallbreier
Get better little guy. Bradley Rowand
For Gregory. Let us know please the outcome of his heart testing.  Erin & Tom
Waiting on word of your well being and sending our love. Tom & Erin
Suzanne Grimaldi
Good luck Gregory! I would love to bring you to my mountain home ! Judith Wallace
We lost our main man, Murray, to CHF this month. My heart is full of love for you, sweet Gregory. I'm so glad that you've been given a second chance. Live big my little friend!! Brette Blaida