Georgine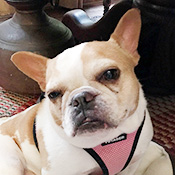 Date posted: 9/1/19
Location: NJ
Some girls are made to be queen bees, adored at all costs. New foster Georgine has made her case for queen bee status and has taken every opportunity to assure herself of her rightful position. She was pulled from a shelter and only weighs in around 18 lbs at the age of six. Don't let her size fool you! She's got the sass and spunk to prove her self-appointed queen bee title.

Georgine appears to be dealing with IVDD and takes daily meds to help counteract it. However, she's a force to be reckoned with, and gets around on her own with all four paws. Georgine uses her sass to vocalize her displeasure with children and other animals when she encounters them, but when she's treated as the queen bee she rightfully is, Georgine becomes a cuddly lovebug. She's a perfect lady on car rides and checks in with her foster momma when she knows she's acted unladylike by tapping on her leg.

As Georgine works on smoothing out some of her rough edges while being lovingly pampered in foster care, she could use some bucks to get her on the right path. Please click on the link to donate, and leave Georgine a kind word of encouragement while you are at it. We're not quite sure yet how she'll say thank you, but allowing a kiss on her regal paw seems to be right up her alley.
Sponsors
We are rooting for you sweet Georgine! Courtney Shively