Cello
Location:Southern Nevada
Age:1 year old
Sex: Spayed female
Weight: 20 pounds
Kids: Yes, respectful, dog-savvy kids 15 years old +
Cats:No
Dogs:Yes
Fenced Yard: Preferred
Adoption Fee:$700
"Cello has been a joy to foster. She is intelligent and quick to learn new things. She had done well with my dogs, even my most dominant female. I wish for her the most loving home with playmates and cuddles and lots of stuffy toys and Nylabones to keep her entertained. She is beautiful and has been easy to care for. She will have a special place in my heart, and will be dearly missed."

Cello has a bite history -- see description.

Pretty-as-a-melody Cello has made it to the Available page! While this sweet, blond one-year-old was running loose as a stray in a pack of dogs, it was suspected that she may have bitten someone attempting to catch her. Could have been somebody else. She subsequently landed in the shelter where she was discovered by FBRN and brought into foster care.

During her time in foster care, her foster mom has not seen any worrisome or aggressive behavior at all. In fact, this little lady has been an ideal canine citizen. She loves loves loves kids, She also adores canine companions and plays well with dogs of all sizes and ages, males and females alike.

Cello also loves Nylabones and other durable chew toys, and also loves her stuffies. She enjoys playing chase and fetch, and will enthusiastically retrieve toys and items whether they are hers or not.

Which reminds us.

Her foster mom has discovered that Cello has quite an affinity for virtually any unsecured item in the house: toys, stuffies, shoes, socks, small pieces of furniture, objets d'art. (Okay, maybe not the last two.) But the rest of it? All fair game for Cello. For her safety as well as the sanity of her humans, Cello would do best in a tidy home free of tempting objects like these. Cello must be monitored while playing with toys and when she's outside so that she does not eat inappropriate objects.

As French Bulldogs go, our girl Cello is pretty healthy. Aside from some mild irritation caused by playing in the grass that turns her cute little belly pink (easily addressed with a bath and some Benadryl), she has no known health issues at this time.

Cello is crate trained, although – as is the case with many Frenchies – she's not a big fan of her crate. If her humans are around, she would rather be with them. But she does sleep in her crate and will hang out in it when she is home alone. Foster mom thinks Cello's sweet, loving nature would make her a fantastic office dog, too. Like all Frenchies, Cello would be thrilled to have her people at home during the day to give her the attention she feels she deserves. (We tend to agree with her assessment.) As a young Frenchie with lots of energy, she definitely needs to have a break to stretch her legs and attend to her dog business during the day. An owner who works outside the home would be fine, as long as arrangements were made to give her this midday break.

The ideal home for Cello would be a tidy one (as mentioned earlier) with older humans who can keep her occupied and continue her training. She just turned a year old and is still learning the ropes – house training is a work in progress – and would benefit from a committed owner who will help her continue to learn and mature. While she's an active and curious girl, she is also very affectionate and loves cuddling and snoogling with her humans. First-time Frenchie owners would be fine, as long as they are alert to the signs of skin irritation and ready with the baths and Benadryl as needed.

The possibility that Cello might have bitten the Good Samaritan trying to rescue her off the mean city streets means that we cannot consider homes with small children or where small children are frequent visitors, for their safety and hers--small children can't be counted on to pick up after themselves. Any kids in her forever home should be at least 15 years old and dog-savvy, in order to avoid any potential issues.

We knew this girl would be a heartbreaker the day she came to FBRN, and it's obvious her foster mom would agree. She has this to say about sweet Cello: "Cello has been a joy to foster. She is intelligent and quick to learn new things. She had done well with my dogs, even my most dominant female. I wish for her the most loving home with playmates and cuddles and lots of stuffy toys and Nylabones to keep her entertained. She is beautiful and has been easy to care for. She will have a special place in my heart, and will be dearly missed."

If you think Cello is playing your tune, click on the link and apply for this little banana today. Be prepared to travel to southern Nevada if chosen to adopt this girl. At 20 pounds, Cello may be a bit too big to fly to her new home. Most Frenchies would jump at the chance to road-trip their way to their new abode, but surprisingly, Cello is not a huge fan of car rides, so the shorter the trip, the better.

FBRN dogs are in foster care in people's private homes. For the foster families' safety, we do not disclose specific locations, and we don't set up meet and greets prior to applications. For detailed information about the dogs in our care, please read the extensive bios on each dog.

FBRN does not ship dogs as cargo, so adopters are expected to pick up their dogs from their foster family.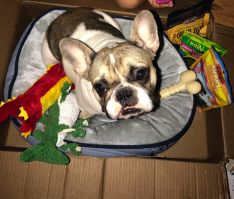 Sponsors
Such a sweet face!! Hope this helps, especially for as many stuffies as your heart desires sweet Cello! Jessica Brewer
For more stuffies! Love April
Katharine Stevens
For Cello from Iggy and Lola the Frenchies. Enjoy your stuffies.
Hello from Idaho Cello!  Red Door
She's such a precious girl. Lori Douhan
Tammy Clemens
Sandra DeLeonardis
Wishing you well, Cello! Puppy kisses sent your way. Shane Rollins
Rest Easy Cello! Annette Thornburgh
Kelle Burns
Amy Salerno
A little something for more stuffies! MARIELA JAIME
Hello sweet girl. I hope all is going well with you.  Jacqueline L Flyr
You're a splitting image of our Zorra who Passed unexpectedly 3 yrs ago. Sight for sad eyes!!! Feel better soon sweet girl! Susan and Randy!
Best wishes Cello!  Sarah & Eric Beach
For whatever you may need Cello! Especially stuffies! From our Frenchie Sophie May who also loves stuffies! Streeter Inc.
Enioy more stuffies!! Thinking of you! Shaun, Mandy & Kolton
To Cello, With love from the Kozak Family!
Enjoy the treats!! Rob n Stacey
I hope you find the perfect home Miss Cello! Lots of slobbery kisses from Sunshyne and Tytan
Cello..sending wonderful wishes from Frenchie Lovers the Archibalds in Las Vegas, NV.
Hi Cello: I hope you can get a brand new stuffie with this. We love you sweetie. Carol & Wally
Irene Kim
Hi Cello. We hope this helps you on your new journey. Tracy & Jen
Traci Rawson
This is for Cello in NV.  She's marked very similarly to my little girl that passed 2 yrs ago. Just a different color. Hope this helps Cello. From myself and my fur kids Louie and Spur. Michael Whittemore
Sweet Cello, How a dog as precious as you could end up on the streets is hard to understand. sending love from Alberta and best wishes for a wonderful forever home xo Christine Hayduk
For sweet Cello - your stuffy obsession reminds me of our sweet Frenchie angel who had the same obsession when we rescued her 11 years ago! - The Rodriguez Family
 For some more stuffies for a gorgeous girl :) Kamden Kern
For sweet Cello, may you get a new start! Love, Joellen Rogers
Such a beautiful girl. Get well and have fun. A great forever home is in your future. - The Crowley-Winter Family
alyssa onderdonk
This is for Cello in NV! High Desert Pet Suites, LLC